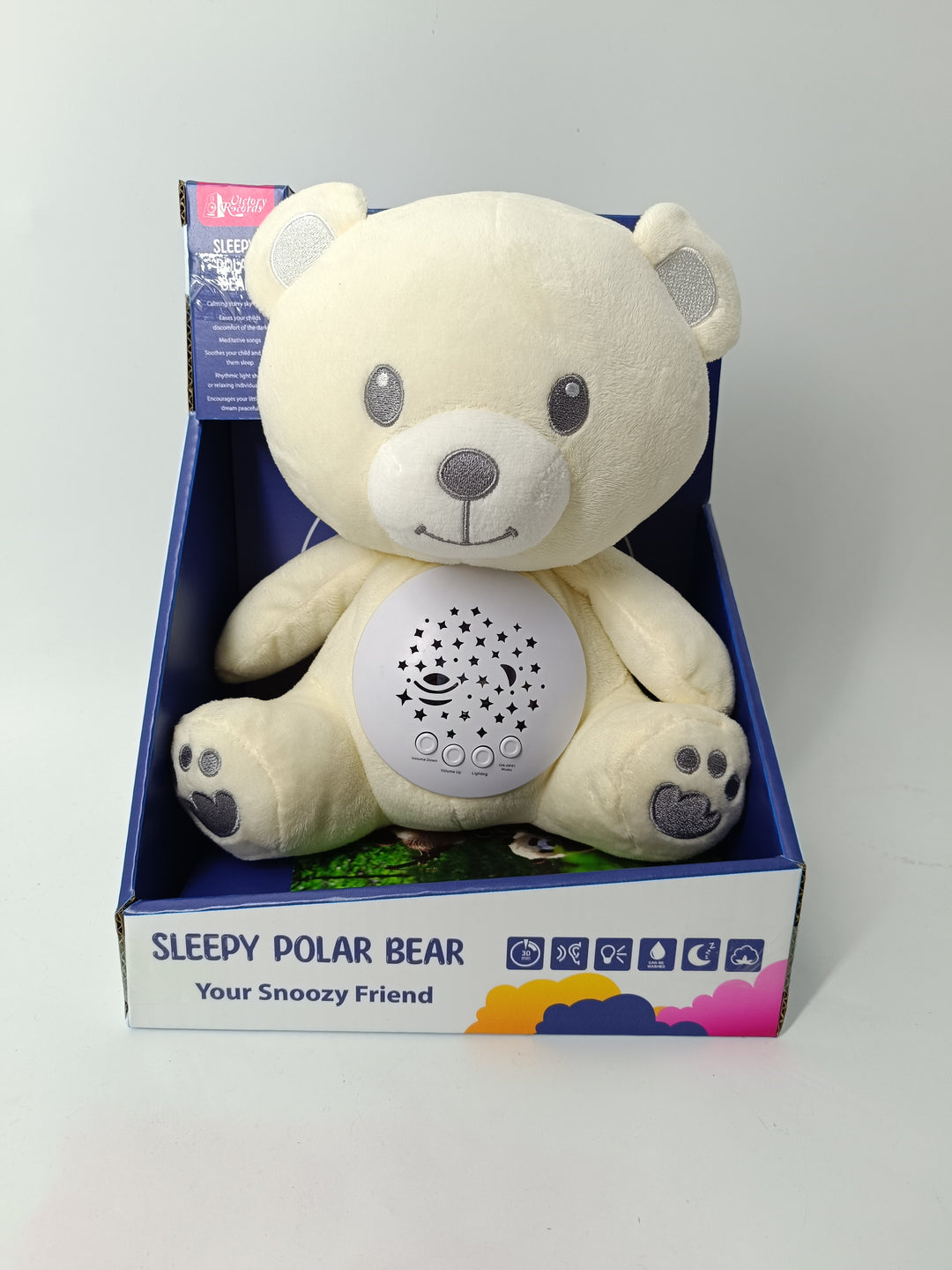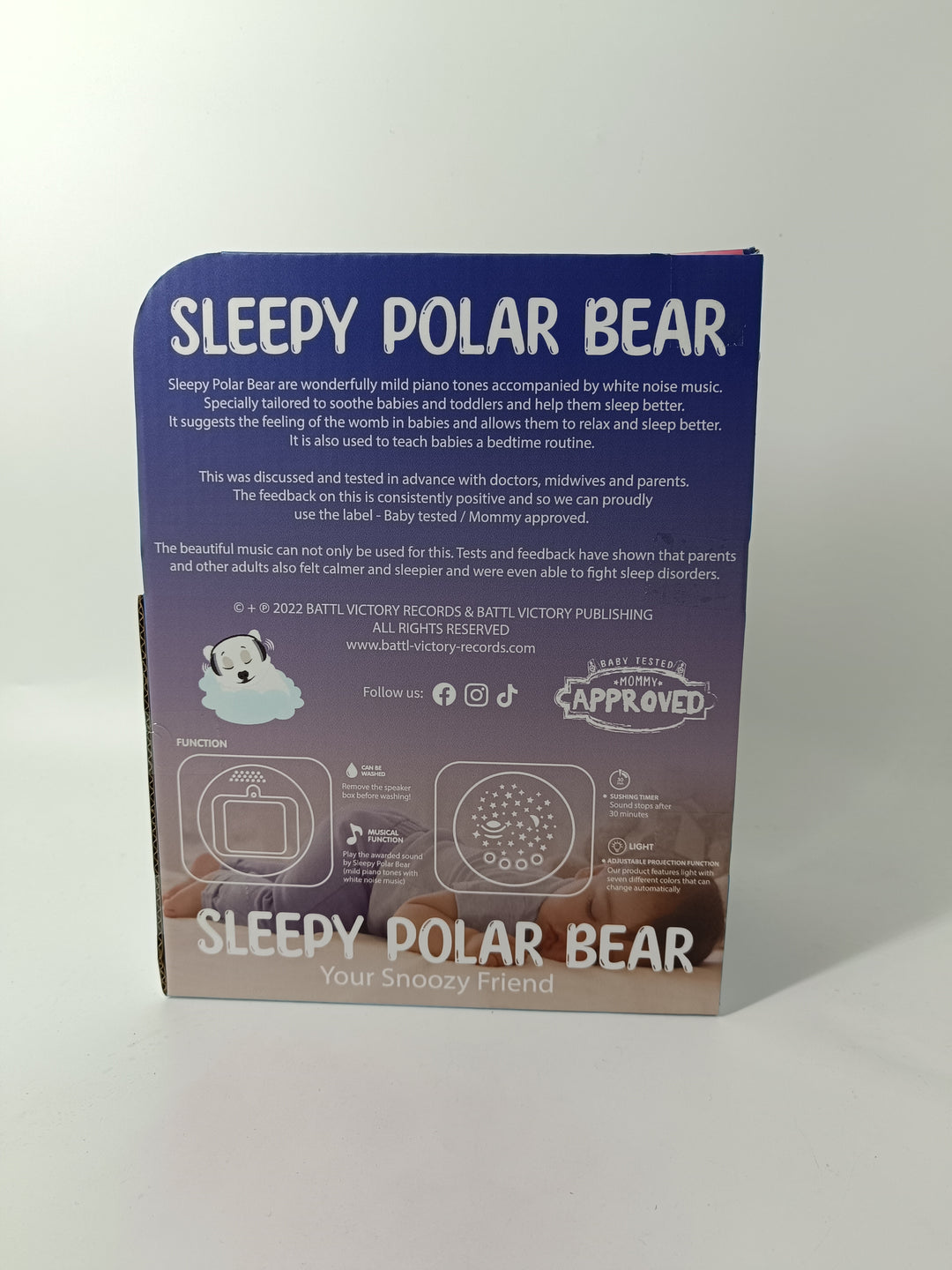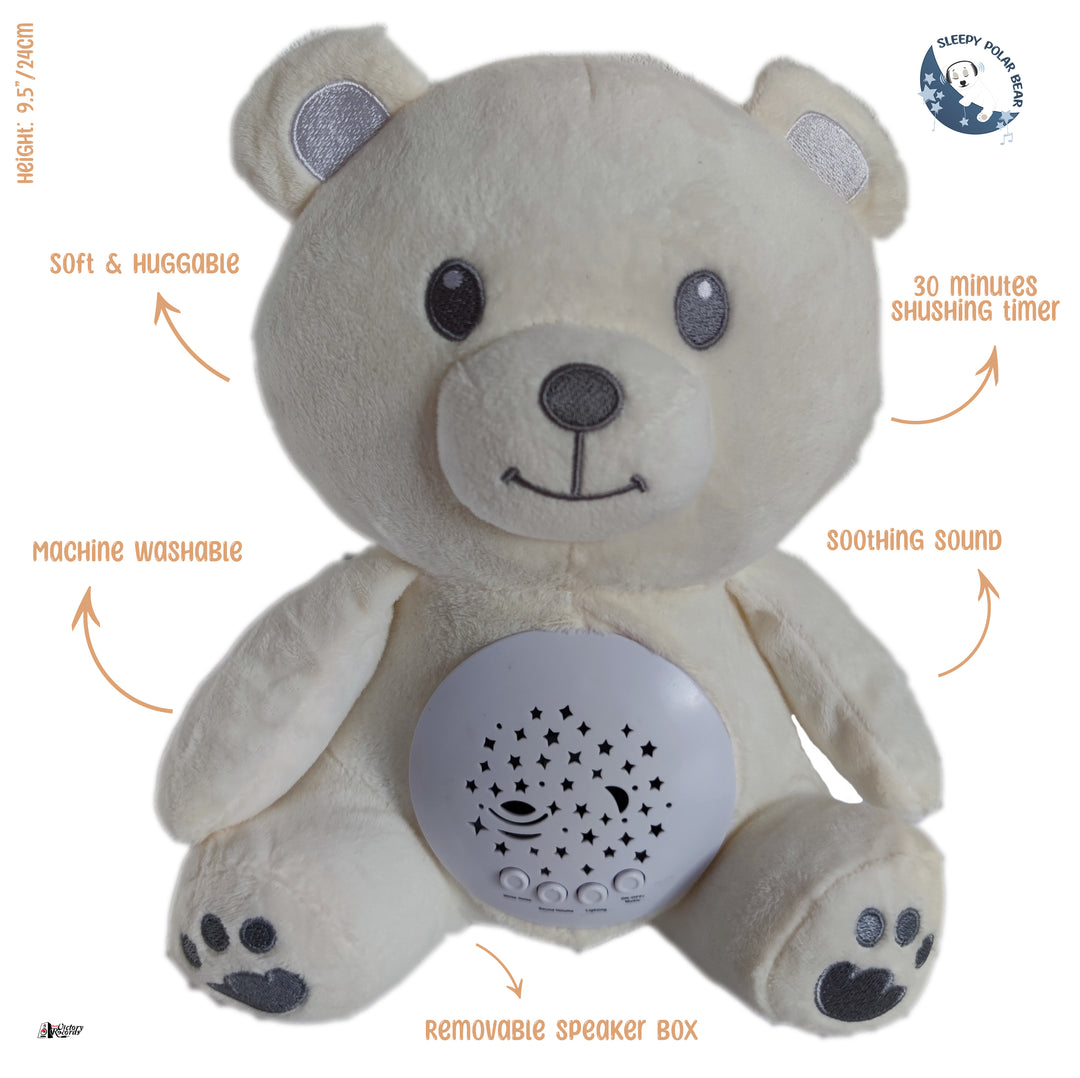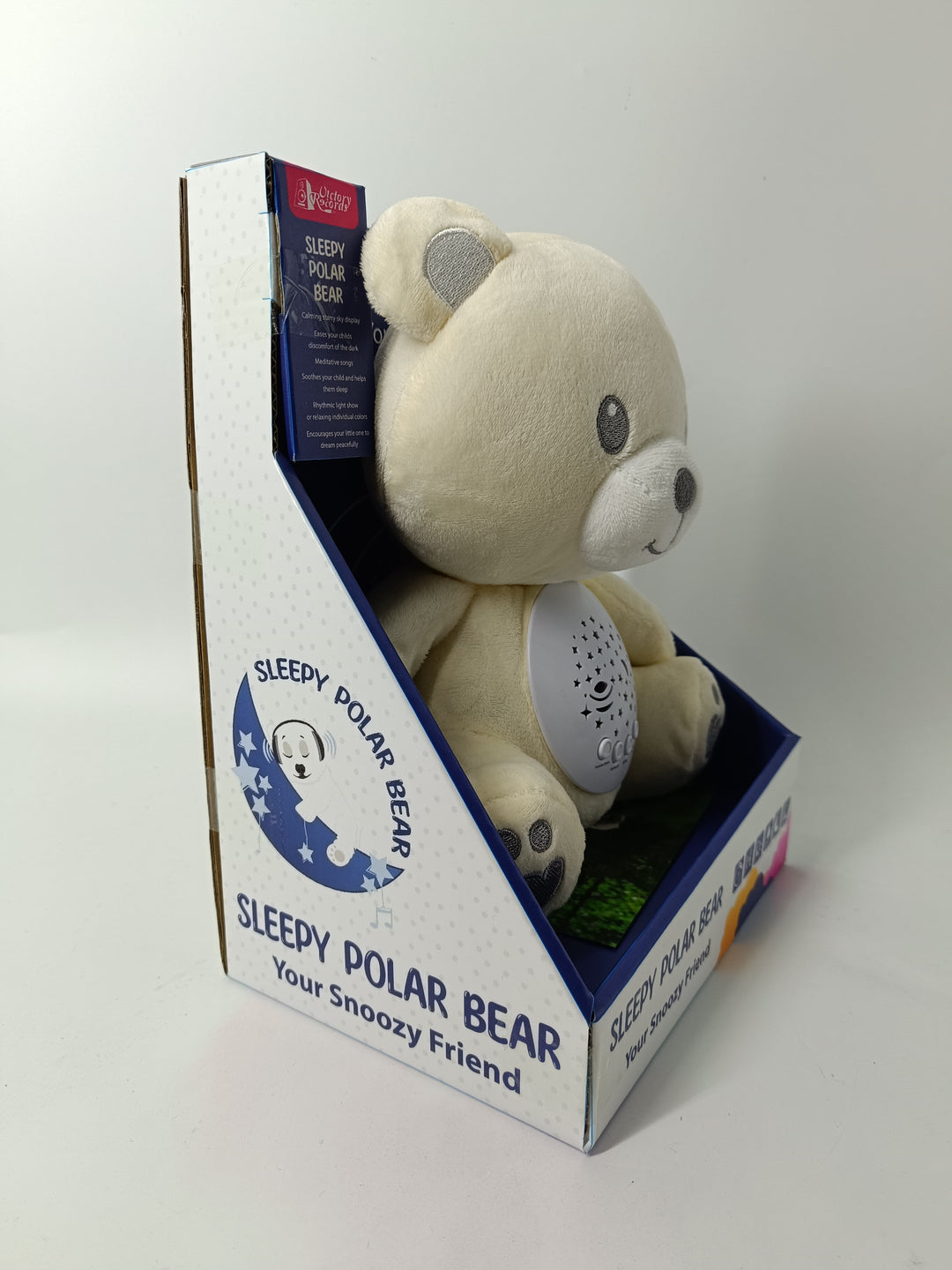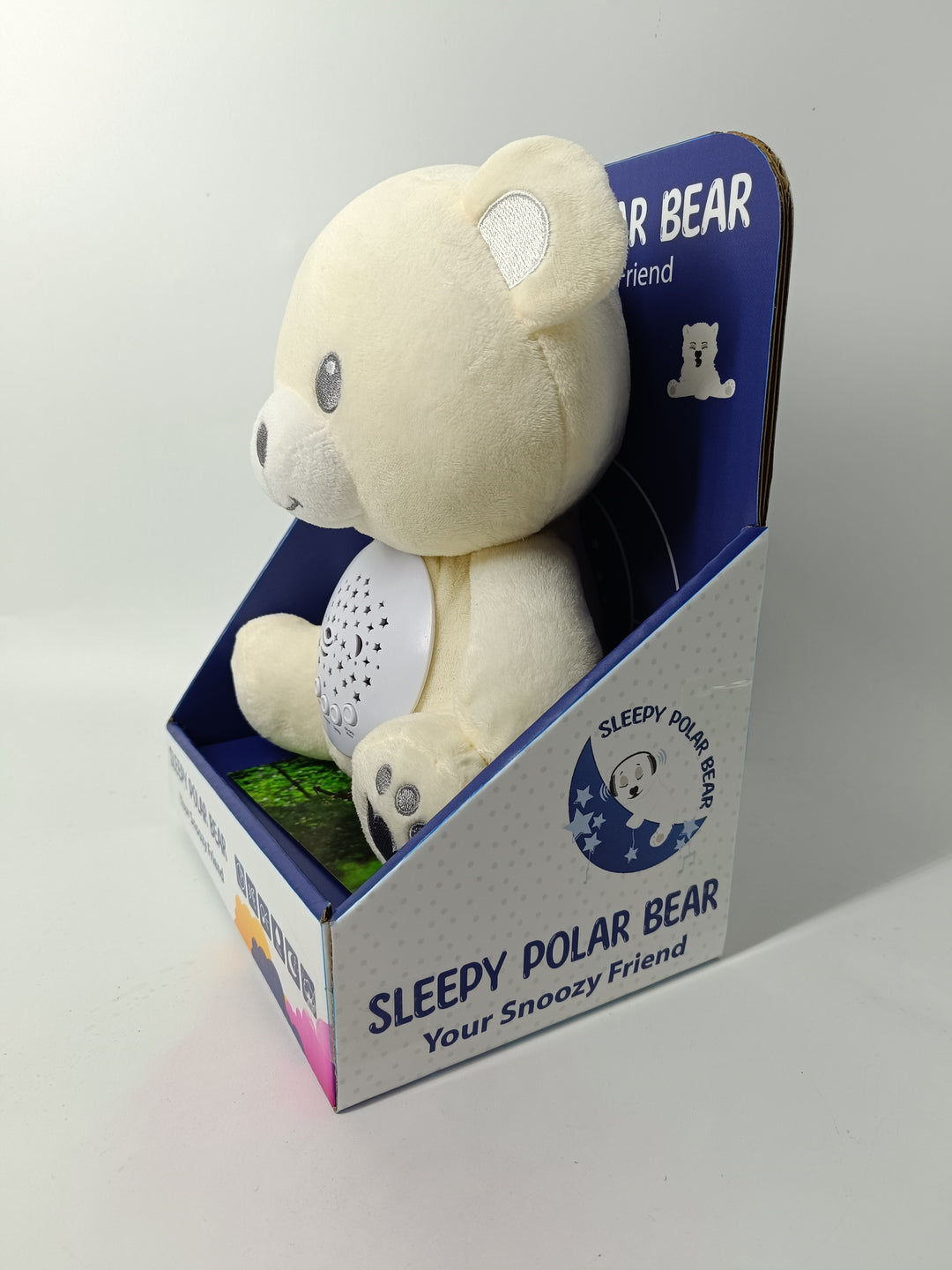 Sleepy Polar Bear Your Snoozy Friend (with sound & light)
Regular price
$65.00
Sale price
$40.00
Save $25.00
/
---
In stock, ready to ship

Inventory on the way
Sleepy Polar Bear Your Snoozy Friend will be so much more than your tot's trusted friend. (From every sold Sleepy Polar Bear Your Snoozy Friend we will donate $1 to children in needs)
Lighting and portable white noise with mild piano tones machine, lovey, and fun puppet—perfect for babies & toddlers! The sound was developed with the help of doctors, therapists and midwives. Thousands of parents are thrilled and we are proud to carry the "Baby tested - Mommy approved" label!
During a feeding, in the car, or catnapping at Grandma's, Sleepy Polar Bear is your helper, quickly soothing the fussies and easing your little one into sleep! This cuddly bear not only gives your baby the same unique white noise sounds as Relaxing Bedtime White Noise Classic Melodies, one of the world's most beloved baby products! (Known from Spotify with more than 1 Million Streams, TV and radio!)
This huggable Snoozy Friend is 4 innovative must-haves in one:
White noise with mild piano tones: 

Y

ou can take it on the go, thanks 

to its 

removable white noise speaker box, which allows you to slip it into your diaper bag for an on-the-go helping hand.
Cuddly companion: 

It's completely safe for your infant through diverse Certifications! In and out completely soft plush and washable (after removing the sound machine!)

Tot's love the sensory experiences of these special, soothing textures.
Playful puppet: Built to entertain and soothe, S

leepy Polar Bear

can help you teach little life lessons, like sharing and patience, during playtime

and very helpful to create a bedtime routine.

Light show:

Integrated is a wonderful Moon & stars light show in different colors projected on the wall and/or

ceiling

.

It engages and distracts the toddlers and this calms and tires them out.
Sleepy Polar Bear plays the award-winning Relaxing Bedtime White Noise Classic Melodies sound, for 30 minutes. 
Want a sleep-boosting white noise lovey for naps, nights, and outings? Want extra help with fussies, feeds, and diaper changes? Want a playtime puppet for…well, just for giggles? Sleepy Polar Bear Your Snoozy Friend is for you!
Grow Up With
Sleepy Polar Bear
 

0-6 Months

Sleepy Polar Bear works great in your bedtime routine…signaling to your baby that sleepytime is coming. Use your bear—or the removable speaker box—to calm your baby during feedings and fussies. Your faithful Your Snoozy Friend  is also perfect for naps on the go, stroller walks, and car rides.

6-12 Months

When your baby graduates from his Snoozy Friend, Sleepy Polar Bear's familiar sounds make sleepytime easier—for naps and nights! And, it helps make transitioning to the crib a breeze. (Doctors advise not using stuffed animals inside your baby's bed for about the first year.)

12+ Months

Sleepy Polar Bear is now your tot's best friend! This cuddly lovey makes naps and nights so much easier. It's a huge help during tough times (illness, trips, sleep difficulties) and builds your tot's trust, security, and confidence.

 

And

 

you'll have tons of fun using the finger holes to turn Sleepy Polar Bear into a puppet for silly playtime…to start teaching your wild little child about the rules of life!
Sleepy Polar Bear Your Snoozy Friend Comes With:
Cuddly, multi-use teddy bear

1 Removable white noise speaker box—portable & compact
(batteries are not included/need 3x1.5V AAA)
1 Plus 100 million moments of love!
NOTE: Never leave Sleepy Polar Bear Your Snoozy Friend in the crib or bassinet with infants under 1 year of age.
Why Parents Love
 

Sleepy Polar Bear

 

and White Noise
 


Snoozy Friend

Familiar Relaxing Bedtime White Noise Classic Melodies sounds are perfect
for calming the fussies during feeds,
car rides, tummy time…you name it!




Boost Sleep

Our special sound
encourage sleep—at home or on the go




Shushing timer

Sound stops after 30 minutes.
Sleep, Cuddle, Adventure, Play… Repeat!
White Noise is Nurturing
 

(…and Silence isn't Cozy)

Babies are serenaded by 24/7 rumbly sounds in the womb. And that's why a totally quiet room can be unsettling for little ones…and not conducive to sleep. Instead, white noise is your child's comfort, lulling them to dreamland now and for years to come. Think of it like your favorite pillow…Sleepy Polar Bear is a reassuring "cuddle" of sound.

Once you wean your baby from swaddling (or from Relaxing Bedtime White Noise Classic Melodies), Sleepy Polar Bear's super-effective sounds keep the Zzz's coming by signaling when it's time to snooze. White noise also helps little kids sleep through outside distractions, like loud TVs or passing trucks, and inner upsets, like throbbing gums or gas pains.
Certifications:
En71 / 7p / 62115 / 60825 / ASTM / HR4040 / AZO / ROHS / CPC
Important / Attention: 
The product is currently in production. All pictures and videos are examples but are 99% identical to the original!
The final product is expected around week 9/2024. We will do our best to arrange delivery before this date.
Sell order:
Pre order Phase 1: Starts 11/11/2023 to 12/2/2023
Pre order phase 2: Starts 12/3/2023 to 12/20/2023 (includes price increase)
Pre order phase 3: Starts 12/21/2023 to 1/11/2024 (including price increase)
Final sale begins: 1/12/2024 at full price